In this article, you can check how to optimize the search for symbols in the E3.series database. The new option presented allows the search by the attribute of characteristics of the symbols, making the search and search more practical.
See the full video article and optimize your processes!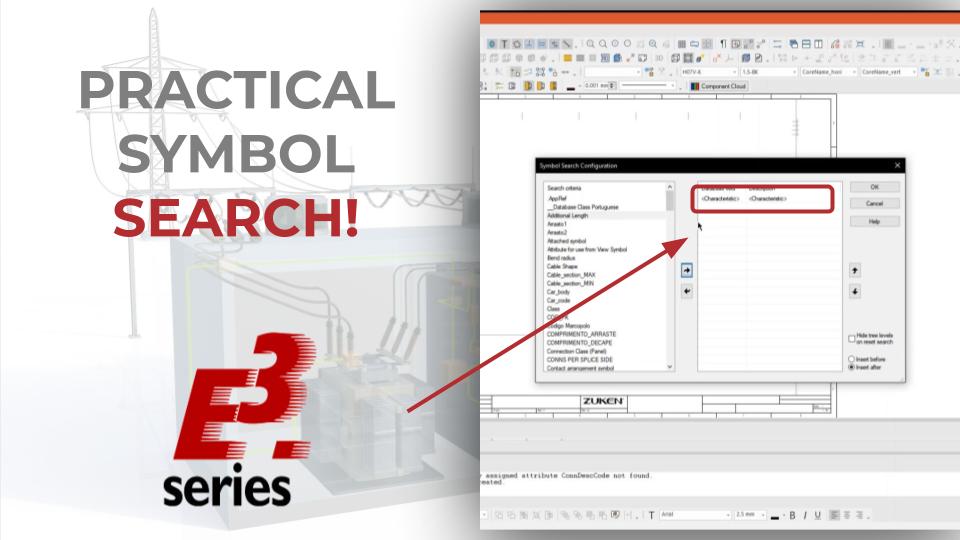 Searching for components, symbols and miscellaneous items in the E3.series database can be performed in several ways. Whether by name, code, weight or even price, attributes can be used to optimize the search for desired items.
To search for symbols and symbols with defined characteristics, the new search criteria "<Characteristic>" can be used. This search criteria is available in both "Symbol" and "Misc" tree views.
Contents of this Article
Configure Symbol Search
With the right mouse button on the symbol title in the library, click on "Symbol Search Configuration".
Then a window with different attributes to choose from will open. Select the option of "<Characteristic>" and click the arrow pointing to the right. Confirm with "OK" and the change will be applied.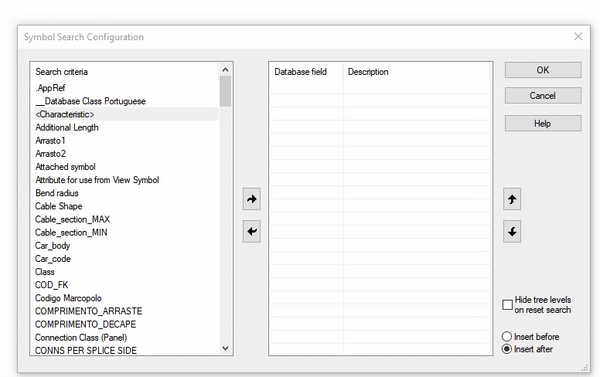 Add <Characteristic> attribute to symbol search
After configuration, the library will have a new search field called "<Characteristic>".
Try NOW the industry-leading E-CAE E3.series tool in the world with technical training courses!

Click on the banner below
Symbol Properties
The "Up" and "Down" attributes are searched and the "ZUK07-19" symbol is displayed with different graphical orientations.

Symbol "ZUK07-19" for "up" and "down" search
After adding the items to the project sheet, their properties can be accessed by right-clicking on the symbol and clicking on "Symbol Properties...". Thus, it is possible to visualize in the window the characteristic attribute that belongs to that item in "Symbol Characteristic".
Also, it is possible to modify the property.
Search for Symbols Through Characteristics
Subscribe to our Youtube channel here for more technical videos.
Learn All About Database
The complete creation of components and models, symbols and, finally, the association of symbols and models for the complete definition of the component structure, as well as the attributes.
You will learn ways and strategies to create components faster from reuse to create your own database in an accelerated way.
See the full course HERE.
Make the E3.series Trial according to your demand using the button below!
---
---
Are You a Student?
Download E3.series for free!