Reading: 10 minutes
Available in: Spanish | Portuguese | German

---
In our last week's article, Industrial Automation: Obstacles, Solutions, and Tools we talked about the challenges, goals, and solutions for the industrial automation industry. Now we will go deeper into which module of the E3.series software for electrical engineering are most recommended to solve the challenges of the Industrial Automation industry and why.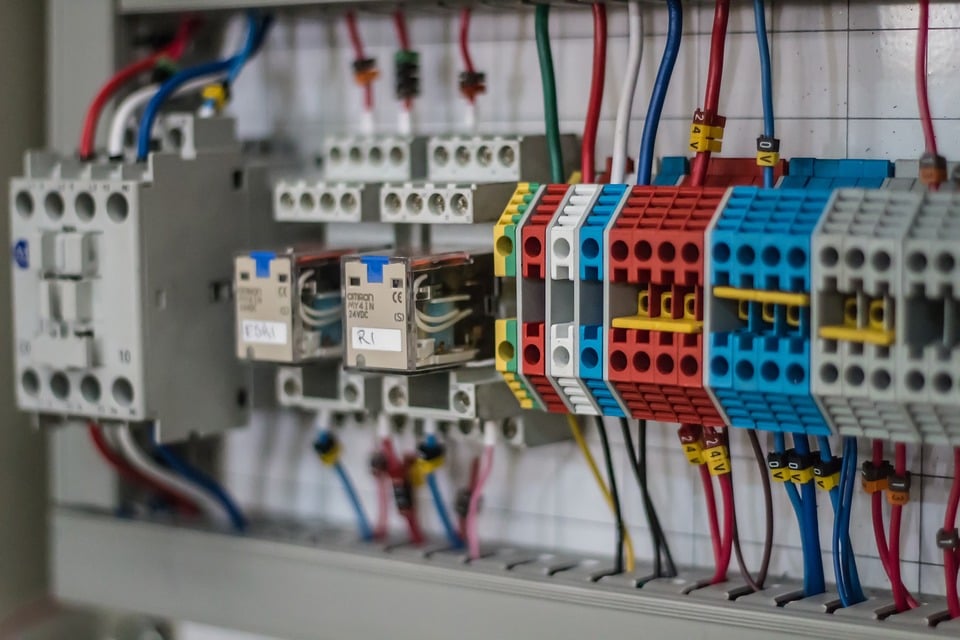 Defining Industrial Automation
Industrial automation is the use of control systems, such as computers or robots, and information technologies for handling different processes and types of machinery in an industry to replace a human being. It is the second step beyond mechanization in the scope of industrialization.

Still, there is sometimes some confusion between the difference in industrial automation and industrial maintenance, since sometimes even professional designers from those fields put them into the same category. Some examples:
Some machine manufacturers call themselves 'automation' because they produce 'automated machines';
Companies that aren't from the project & service sectors, but that grow big enough to start their own industrial maintenance division, which usually has the task of internally managing and creating their own industrial automation process and also start to fit into this category.
The technical solution for industrial automation can vary greatly in complexity, since challenges can come in form of a simple workbench equipment automation (like a specialized drill or press, for example) all the way to a robust system that can include the whole automated process of an industry's smart assembly line or an automated stock management system. Each solution is different, and each solution is custom.
Still, there are some challenges that most companies of this field tend to face in the electrical field, independent of the type of application:
Production Costs: Companies that create products for the masses usually have it easier with production, since once a product is done it can be produced thousands or even millions of times. But the Industrial Automation industry tends to create custom solutions to solve very specific demands, and the more custom a solution, the stronger the impact of the prototyping in the final product's costs. This is why it is extremely important to solve as much as possible at the project level before starting production and keep prototyping at a minimum or, if possible, avoid it completely and solve all these questions at a project level, assisted by software;
Panel design, with challenges like the routing of the wires, duct capacity, wire bend radius and all of the other challenges of each specific company.
And this list goes on and on since every company has their own custom necessities int heir own production world.
Main solutions for industrial automation:
The E3.series software has different modules with different features for each type of application. This allows the user to select the modules that he really needs and not worry about (buy) the full license.
- E3.panel is dedicated to the creation of the electrical panel and is focused on solving the challenges of an electrical designer in this process. It is also able to export all of the information needed by panel builder (panelist) to manufacture the electrical panel, including cable length information or even 'from-to' wire connection lists, allowing the electrical designer to deliver a project that is ready for production and easy to understand. All this, making sure that the resulting documentation can be easily utilized in manufacturing by the own company internally or even by a third-party like a panel builder that might take over this part.
- The creation of cross-references (no matter if they are of the direct kind or in a 'star system') of the corresponding connections that always keep the link with the logic destination, therefore not allowing the electric designer to make any mistakes.
Practical Example:
Challenge: Many times, an electrical designer needs to make a connection between two devices which are located at different sheets within the project. But when the software tool does not allow for this type of connections, the resulting documentation is generated with errors or incomplete lists.
Solution with E3.series: The cross-references created in the connections are automatic and direct, and maintain the connection relationship even after moving the effective destination position; This allows the software to understand that these devices are actually connected and therefore E3.series is able to generate reports and connection lists automatically and without errors.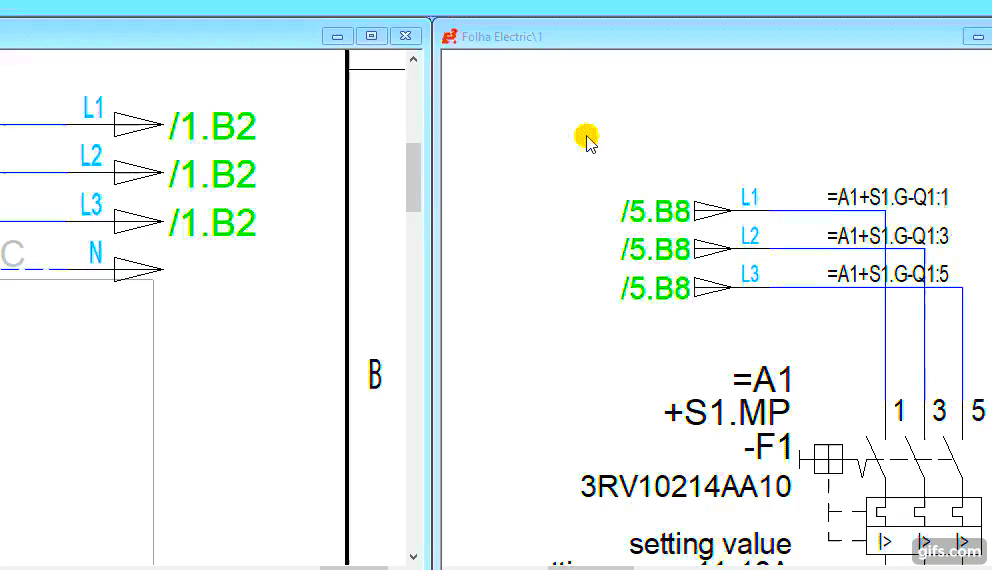 The capacity to import the PLC´s from the database, including it's I/O modules and its text links, as well as the predefined master-slave cross-references. In many tasks, there is a difficulty in distributing the I/O modules of the PLC's in the electrical project. This link needs design tools for active maintenance in order to guarantee the correlation between the position of the slave modules and the main symbol, which is the PLC itself.
E3.series solves this challenge without difficulty through the existence of an automatic attribution that allows for the classification of the modules and its PLC in a way that the user does not require to keep that data updated since the software takes care of doing this automatically and in real time.
- Solution for Electrical Schematic Design, E3.schematic: this module is made for developing multi-pole electrical schematics, can define wire properties to the connections, quickly define from-to information for each connection automatically and precise, exports projects in dwg/dxf formats, export/print to PDF, generate terminal lists automatically, automatic reports/lists and many other features like the management of the PLC's.
Additional modules to E3.schematic
As extra/expansion modules to E3.schematic, for the design of Electrical Panels, we have E3.panel and E3.panel plus:
E3.panel allows to generate all of the detail and dimensioning of the panel's 2D/3D structure, the definition and placement of the components into the panel as well as the specification of the cable ducts and rails.
E3.panel Plus allows for the automatic wiring of all of the wires in the 2D/3D panel and allows for the automatic insertion of wires in the cabinet in 2D as well as in 3D. After achieving the automatic routing of the wires, it generates a report with the wire lengths for each connection, down to the millimeter, as well as informing the color and cross-section of each particular wire/connection. After that, the software is even capable to generate a sheet with a representation of the punching plate for the mounting of the cabinet.
With the ample variety of possibilities, the ideal options for Industrial Automation usually vary between:
E3.schematic
E3.schematic + E3.panel
E3.cable + E3.panel
As well as additional add-ons like:
Integration enhancements
Automatic Routing of the Panel
Intelligent documentation in PDF
E3.series Modules
E3.panel no Routing

Structural Mounting 2D/3D
Mechanical constraints of the components
Mounting of rails and cable ducts

Rail sizes
Cable duct sizes
Dynamic dimensioning
Shared sheets

E3.panel+ Routing

Autorouting 3D
Intelligent routing of cable ducts
Cable duct filling respecting limits
3D wire views with real thickness and color
Wire lengths lists and routes for the 3D wiring

Structural mounting 2D/3D
Mechanical constraints of the components
Mounting of rails and cable ducts
Size and type of the rails
Size of the cable ducts
Dynamic dimensioning
Shared sheets

E3.schematic

Automatic lists
Error, warning, and info checks
PLC´s Management
Labeling systems
Database Editor
Online terminal plan
Autoconnect
Tools for multiple connections
Addressable from/to
Signals tree structure
Wiring properties

Project tables
Graphics
Project tree structure, database, output and more
Sheet arrangement by folders
Variants and Options
Insert files and images
Print to PDF
Viewer tools
Intelligent marking fields
Cross-references
Multi-pole schematics

E3.cable

Automatic lists
Error, warning, and message checks
PLC´s management
Labeling systems
Database Editor
Online terminal plan
Auto connect
Tools for multiple connections
Addressable from/to
Signals tree structure
Wiring properties
Project tables
Graphics
Project tree structure, database, output and more

Sheet arrangement by folders
Variants and Options
Insert files and images
Print to PDF
Viewer tools

Intelligent marking fields

Cross-references
Multi-pole schematics
Single pole schematics
Hierarchical blocks
Tables for connectors
Multiple views for devices
Segment diameters
Single and multi-pole schematic integration
Component Libraries
This segment is also very sensitive as to the availability of component libraries since the user wishes to have certain components in a pre-defined form like, for example, a specific PLC model or a human-machine interface the customer may be asking for. This type of equipment usually has many connection points and also many links between the symbols, and that´s why it is necessary to dedicate many hours to the implementation of these components to build a robust and trustworthy library. In this sense, the Component Portal (see below) has helped customers from this industry to overcome this challenge.
Component Portal
In the article Portal de Componentes para o E3.series, the engineer Andrei Fontana describes how now our customers have the possibility to access the online portal with many components developed in high quality and certified by the component manufacturers themselves.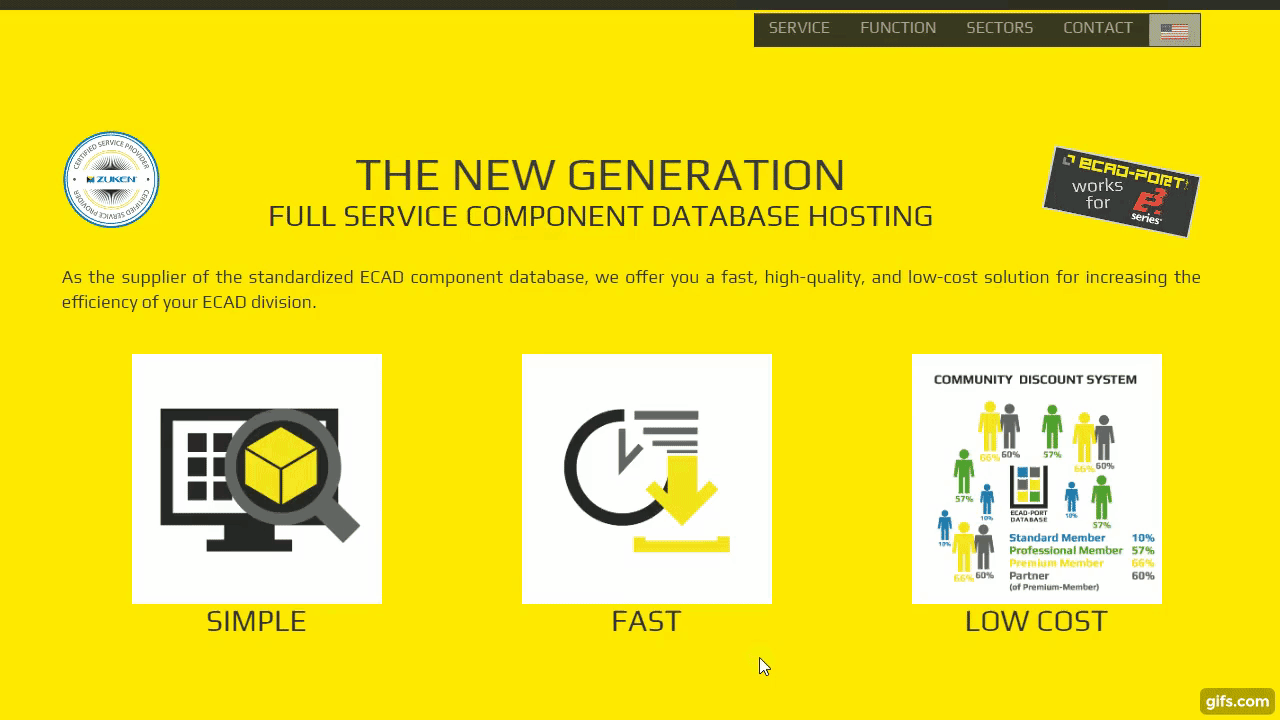 Success Case
ARM Automation produces, builds and gives support to personalized fabrication systems for an ample range of industries. The electrical project of these systems can be complex and with hundreds of hours of design involved. By using smart tools like E3.series to guide the electrical design process, the company reduced its development time in 2/3 (66%).
Read ARM Automation's full Success Story here
Set up a meeting with one of our engineers
Now you have a better understanding of how E3.series features can help your specific design process in Industrial automation.
Do you have any questions or wish to talk about a custom solution for your specific design process?
Comment below, or sign up for a Free consultation with our team by following this link: