In this article, you can check how to configure the E3.series grid so that, when zooming in on the project sheet, the grid markings follow and are better highlighted to perform the adjustment and positioning of the components on the sheets.
See the full video article and optimize your processes!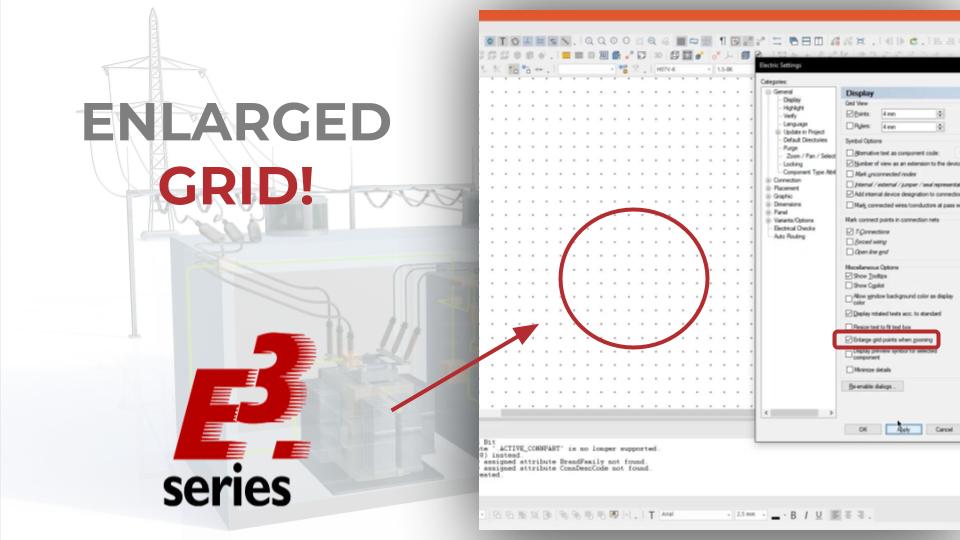 Previously, grid points remained constant when zooming. From now on, it is possible to control whether grid points should also be enlarged when zooming.
Thus, this configuration facilitates the creation of components and symbols, in addition to helping the positioning of devices on the sheet.
Contents of this Article
How to Adjust the Grid to Zoom
Initially, with a schematic sheet inserted, the project settings are accessed in "Tools" - "Settings...". You can also press the "S" key.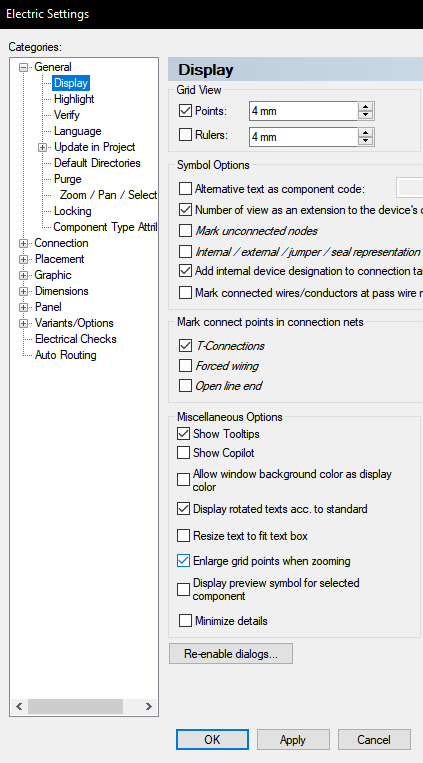 Window for Grid settings in E3.series
After, access the option of "General" - "Display" and, in "Miscellaneous Options" check the box "Enlarge grid points when zooming".
Click "Apply" and "OK".
Ready, your grid will follow the zoom in the project sheet.
Try NOW the industry-leading E-CAE E3.series tool in the world with technical training courses!

Click on the banner below
Insertion of Connectors, Connections and Wires
After the grid configuration, the "DT04-3P" connectors are added to the project sheet. As we are using E3.schematic, when dragging the component, the multiline view is displayed, with all the connector pins.

Multi-line view of connector "DT04-3P"
The view is duplicated with the commands of "Ctrl + C" and "Ctrl + V", mirrored with the "Y" key and its connection is carried out with the option of "Multi-Connection".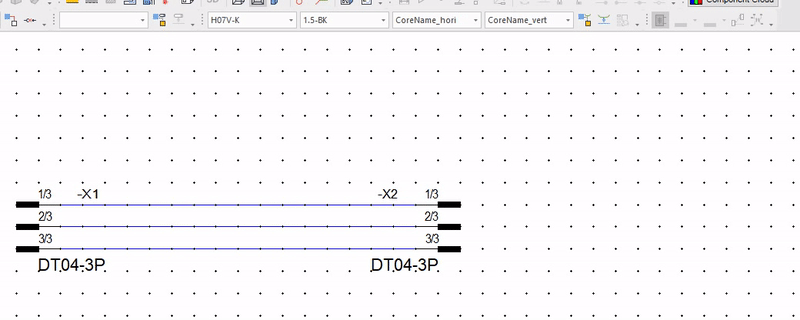 Simultaneously Inserted Wires
Finally, wires are added simultaneously with the "Insert Default Wire" button.
Grid Adjustment in Project Sheet
Subscribe to our Youtube channel here for more technical videos.
Learn All About E3.schematic
See below some of the contents covered in the E3.schematic L1 course:
Automatic generation of your project's cover, keeping the content next to it. The content list with the name of each page, the description of each page, more data such as the project editor and the organization's document type.
Bill of materials generation including item number, component description, supplier and project name.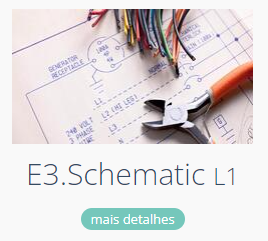 E3.series Electrical Schematics Course - E3.schematic L1
Find out more HERE.
Make the E3.series Trial according to your demand using the button below!
---
---
Are You a Student?
Download E3.series for free!