Electronic integration and interconnecting wiring design for modern industries are growing in complexity. Ensuring that companies are in the forefront of quality design demand is ever so important. The real question is how can companies accommodate the increased demand for quality products and still remain within a competitive cost? This article goes into showing how powerful electrical computer aided design programs can bring that competitive advantage for wiring harness manufacturers.
---
Wiring harness design has been around significantly longer than ECAD programs. Originally wiring harness design was conducted with pencil and paper. But, with modern computing technology growth, computational wiring harness design has been made possible. Today, electrical design processes has mainly been graphics-based for ECAD by the computing softwares made available.
Automating Design
Automation in design is to help assist engineers through developmental tasks. This tools allows engineers to bypass the manual aspect of design through computation providing a supportive environment. ECAD provides a major advantage towards wiring harness design by automating inputs from the engineer rather than constructing diagrams manually. The processes for electrical design process include:
System Design (pin-to-pin signal connectivity for each system)
System Integration (implement all systems together and physical wire generation)
Harness Engineering (finalized wiring harness design)
System Integration is especially challenging and an error-prone task, especially in signal count and configuration. There is no universal configuration and there are hundreds of different type of individual electrical configurations possible. How is it possible to keep track of all these configurations and successfully mating connectors? This is what system integration is all about.
ECAD allows for inputs for be generated automatically based on user demand. ECAD provides the following for system integration:
Simple system pin-to-pin connectivity, with signal tagging and defining option support.
Mechanical constraints, such as routing, bundle lengths, and connection locations.
Configuration logic, direct configuration possibility based on input
Design rules checks
These variables are all that is needed to automatically generate wiring for wiring harnesses for product applications.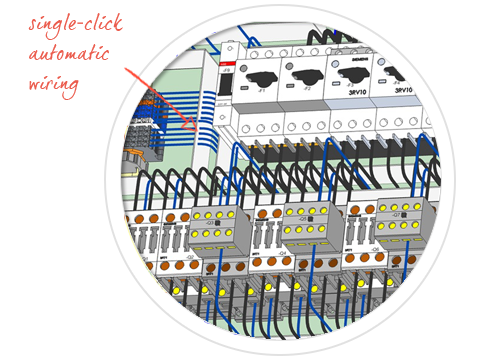 What Generation Design Brings to the Table
Utilizing design rules allows for easy management of complicated configurations. They can be based on total number of permitted wire splicing, eliminate possibility of duplicate color coded wire next to each other, or determine which material to use based on current market price value.
Generation design allows for the variables to automatically generate wiring harness design only if the four inputs are correct. Design rules make companies competitive by developing their own intellectual property. System integration completion time decreases, which directly affects wiring harness design times and costs. It also provides additional time for looking into other available design options. Design changes is simplier and can be made throughout the entire design model from inputs to documentation.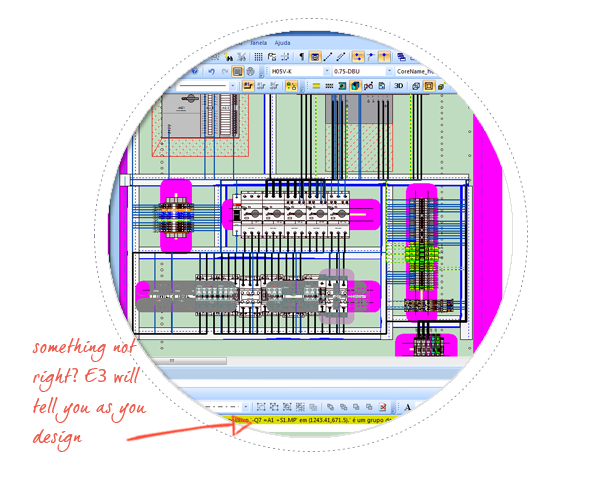 Creating Diagrams
Automatic diagram creation has never been made easier. Where wiring harness design diagrams are created straight from the user design data. There is never only one type of wiring harness design. There exists multiple possible configurations for even a single electrical situation. But, there is also a need to have a single design the be represented in different ways. Using the existing design, new diagrams can be generated especially for service and maintenance personnel, as well as for manufacturing.
Wiring harness manufacturers often require drawings that adhere to OEM standards. But, many wiring harness manufacturers often use multiple OEMs, with each of their own wiring harness standards. These use to be done manually, but with the assistance of ECAD users can select from an extensive library of graphical standards to automatically produce the format. This allows wiring harness manufacturers to standardize on ECAD software across all clients, which result in better organizational productivity.
Revision and Design Change Management
Revision and design change is a common occurrence for wiring harness manufacturers. Since most wiring harnesses are still hand built without the aid of specific designing tools, this makes revision and design changes relatively simple to implement. Wiring harnesses are complex assembly of components which can come from multiple suppliers.
The ability to change wiring harnesses design on the ready is therefore a desirable quality. The true challenge is to correctly implement design changes based on the client's input without causing more obstacles to your previous work.
ECAD wiring harness tools solve this by determining if design data complies with the automated configuration policy initially provided. All incoming design objects and their attributes are only allowed in revisions if permission is given. But, all permitted changes are passed through all of the wiring harness design files.
Implementing design change and revisions through ECAD software allows for a daily design changes to be automatic and controlled for manufacturers.
Failure Modes and Effect Analysis
After all the generation and interactive system configurations are completed, it is often good practice to figure out if the product actually works. There is a strong need to test electrical systems to observe if it fails. The goal is not to ruin the wiring harness design with absurd non-sensical test, but to understand if the wiring harness will perform as designed. If failure does occurs then this promotes the idea of improvement.
FMEA is widely used as a key contributor to product safety and reliability, is often mandatory in industries that require high statistical probability of success. The problem for FMEA is difficult to perform when system grow large and complex through design. Electrical FMEA applications provide good quality fidelity in developing simulation capabilities to probe possible failure events.
With user input and explicit situational knowledge of electrical design the FMEA software can run through possible cycles where potential failure could arise. This is to understand the potential risk factor involved based on component, or device, failure mode. These risk assessments can be categorized and ranked providing data for engineers to improve design upon.
FMEA may require a nice amount of money in the beginning, but the initial investment will be reward in the end through avoiding warranties and liability cost, while improving the company's image by providing better quality products. Electrical FMEA also provides design improvement user feedback and connectivity error detection, which are all examples of intelligently designed ECAD platforms.
ECAD E3.Series
E3.series provides a powerful solution for design and documentation of modern electrical systems. It is state-of-the-art based on extensive symbols libraries and databases, for unique circuit diagram representation, producing error-free documentation with simultaneous manufacturing and support documentation. Increase your design productivity using advanced ECAD engine that connects schematic design, panel layout, terminal diagrams, cable block diagrams, and wiring design tasks in a single interactive environment.
E3.Formboard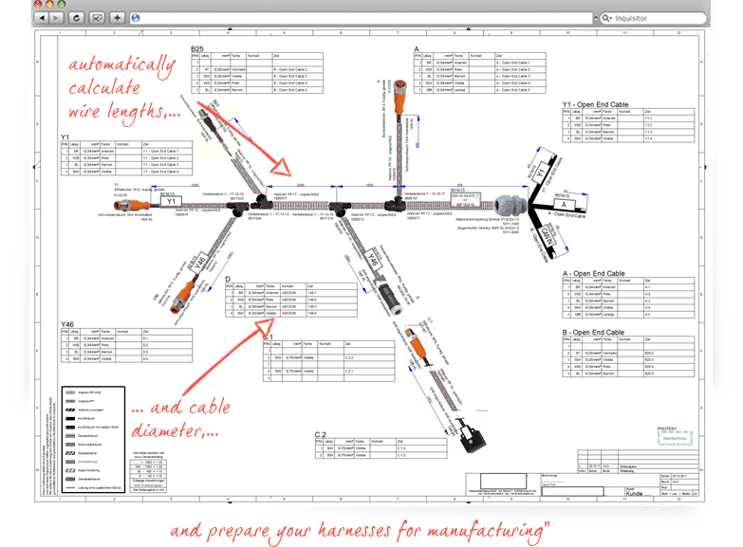 E3.Formboard is an extension of the E3.Series providing a solution to wiring harness design for manufacturing. Various size sheets can be used for creating manufacturing drawings. Automatic placement functions provide a simple way for arrangement and dimensioning of wiring harness design.
Straight from the schematic diagram the cables and wiring harness can be viewed on the formboard drawing. It includes both electrical and non-electrical components including:
Connect Placement
Wire Segments
Protective Coverings
Clips
Labels and More
Design engineers can manually or automatically place configuration tables in the drawings to display pin, wire, cable, signal. gauge, color, and specific target information for smooth error-free manufacturing flow.
Design rules can be defined before modeling wiring harness segments and be used for manufacturing length. Design rules determine if wiring segments are out-of-scale and can automatically adjust them to display the correct manufacturing length assigned to it. Formboard also has the capabilities to calculate wiring harness bundle diameter and display information of harness segments.
E3.Formboard features include:
Build to print detailed 1:1 drawing
Place single or multiple connector views
Automatically place configurable assignment tables
Supports arced connection segments
Automatically calculate wire lengths over routing segments
Easily rotate branches
Calculate bundle diameters
Place and check non-electrical parts (mounting, tube, hoses, clips, etc)
Integration with automatic wire preparation machines

---
E3.3D Routing Bridge
E3.Series has developed a fully integratable platform that lines the E3.Series with major MCAD vendors. Using the E3.3D Routing Bridge, schematic connection information from all E3.Series extensions can interface with all major MCAD systems.
Collaboration between E3.Series and you preferred MCAD tool gives engineers the luxury of concurrent design for all engineering disciplines, from mechanical to electrical. Features include:
Transfer component information to MCAD
Transfer to-from data to MCAD (includes gauge, color, and type)
Check for clash detection in MCAD
Check for bend radius
Calculate length of wires and segments in MCAD
Transfer lengths and segments back to E3.Series
Automatic creation of manufacturing documentation in E3.Formboard
MCAD supporting platforms:
Catia V5
SolidWorks
PTC Creo
Autodesk Inventor
Siemens NX
Solid Edge
NX I-deas
---