Power distribution systems need detailed care and consideration when planning and designing. The power system is crucial to keep day to day operations functioning properly. Let us look at some of the important aspects distribution system planning and design.
---
Importance of Planning
In order for the industry to remain profitable the principal company must obtain the least amount of total cost of ownership. This means selecting system configurations with low cost by also accounting for cost of operation, maintenance & upgrades, and system decommissioning.
Planning is necessary to design a system for optimum performance. While ensuring supply continuity, minimizing power losses, ensuring power quality, and obtaining trouble free operation by selecting appropriate sizing equipment based on surrounding influences.
Planning for Industrial Distribution Systems
Planning begins with assessing the predetermined energy demand for the facility. To understand what the facility would require for energy consumption prior information of other facilities projects with similar equipment and processes is a good starting point. This only provides a starting point, where a better approximation can be determined based on facility machinery and equipment. Data required to be collected for power estimation include:
List of Connections Loads and Locations
Pattern of Loading (process variations)
Separating Critical Load from Non-Critical Loads
Loads with High Harmonics
Inclusion of Future Growth Plans
Utility Interfacing
A list of load locations and pattern of equipment loading will aid in assessing the load factor, demand factor, and diversity factor. Application of these factors is crucial in accurately estimating power requirements for any facility and designing distribution systems.
Projection of Future Growth
To plan for future distribution system a good grace period is needed to give a good head start. Five years is a nice start for distribution systems. This is due to expansion in distribution systems within a running facility can cause inconvenient operational disruptions. It might be good practice to over engineer the initial capacity by a reasonable amount to account for possible expansions. Another option is to select equipment with dual rated equipment.
The approach above is for projects with sufficient funds to produce it. For a project with lower funds, planning for future expansion requires space and equipment for the upgraded distribution system. This is approach is done by assuming expansion and having the planning and designs already produced as if to develop the expansion.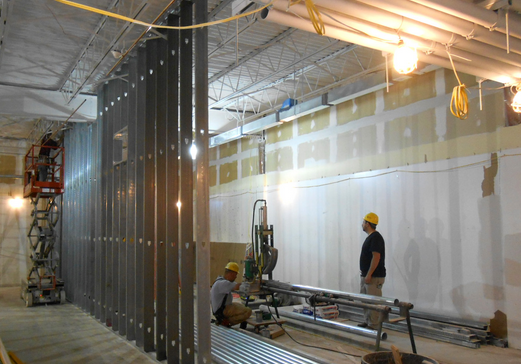 Location of Equipment Assets
The general principle is to place distribution system equipment at a center location for loads fed to it. This is an ideal location where benefits of electrical design are:
Shorter Cable Routes
Power Flow Direction Uniformity
Lower Electrical Losses and Smaller Cabling Sizes
Minimize Excessive Voltage Drop
Proper placement can result in lower cable costs and operational costs by minimizing chance of power loss. Location selecting is not always as simple as taking the shortest path to its destination. It is good to say that once components are in place it is often difficult to move them around. Correct selection during planning is crucial and must receive the a fair amount of attention.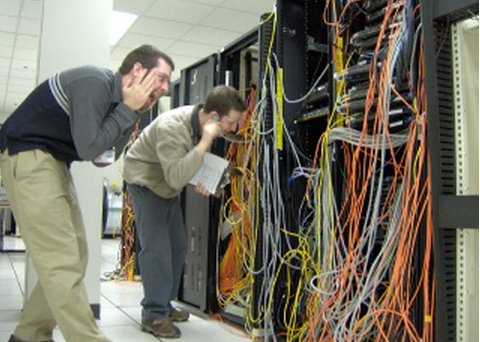 Selection of Distribution System Parameters
The next step in design is to establish the distribution system parameters. The parameters include:
Environmental Specifications
Voltage Levels in the Distribution System and its Frequency
Acceptable Variations in System Parameters
Fault Interrupting/Withstanding Capacity
Environmental
Environmental specifications depend on facility location for the distribution system design and equipment purchasing. Temperature and humidity are defining factors to determine distribution system equipment selection. Other considerations include understanding lightning flash density for protection, presence of dust, possible combustible gases, and chemical pollutants. These will help in determining the appropriate location for distribution system placement.
Distribution System Voltage and Frequency
Determining distribution system voltage and frequency values to use is the next step. Frequency is usually determined by standards in the region. Voltage selection tends to be a little more complicated. The equipment must match the external utility system for the distribution system in the facility. This is usually determined based on the total load anticipated.
Acceptable Variation in Distribution System Parameters
Frequency and voltage are mainly controlled by systems within a certain limit. Normally, variations keep happening depending on system operating condition and facility load draw. As long as it is within acceptable limits there is no need for concern. Abnormal conditions such as shorts or faults can cause voltage/frequency surges beyond the limiting values.
Equipment are designed to withstand some variations. But, if equipment can be expected to exceed design limitations the following options are available:
Control Variation Extent (Components to Minimize Voltage Drop)
Automated Interfaces to Limit Variations (Regulate Voltage and Reduce Fluctuations)
Certain Equipment to Enhance Variation Levels (Satisfactory Operation Over Larger Voltage Band)
Capacity to Withstand Faults
Equipment subjected to high fault currents must be able to withstand the thermal and mechanical stresses associated with it. Equipment developed for the purpose of interrupting faults always have a limit. Equipment selection must have ratings that are higher than short circuit currents where this could occur.
Planning Distribution System Configuration
Up until now we have discussed the important considerations for planning a distribution system project. Once the proper configurations are understood, detailed finalization is next for the following:
Overall Configuration
Number of Incoming Feeders
Incoming and Distribution Voltage Levels
Major Equipment Ratings
Type of Distribution
Integration of Emergency Standby Equipment
Protective System Earthing
These details lead to the overall single line distribution schematic for facility planning. Optimizing the configurations now will require little revision later on.
Rating/Sizing for Equipment
The next step in the distribution system is deciding equipment ratings. Selecting the appropriate rating requires finalization of the following:
Rated Voltage, Current, and Frequency
Voltage and Frequency Variation
Fault Withstanding Current and Time
Fault Breaking Capacity
Clearance and Creepage
All equipment will arrive using the distribution system parameters previously discussed. Permissible voltage and frequency variation tolerance is equipment specific and limitations need to be matched with power system parameters. Specific measures will have to be planned for sag correctors and uninterrupted power supply system.
Market availability constraints can make selection difficult for planning configuration. Ratings of swithgears, transformers, and circuit breaker interrupting capacity can become a limiting factor and can introduce unintended additional equipment to maintain the projected distribution system parameters.
Designing and Planning Summarized
Power distribution systems require large amounts of funds for investments in any industry and a sizeable amount for operational costs. Proper planning for designing a distribution system with optimum performance requires several steps from collecting data, selecting proper configurations, and selecting appropriate equipment using planning tools, and software for modeling and documenting important aspects of the distribution system.
Designing and Planning with E3.Series
Planning distribution systems requires great attention to detail. Designing, documenting, and selecting equipment already require a great deal of time. E3.series offers great tools to make this process easier for the designers.

E3.Schematic
Offers a platform for designing and documenting electrical controls from fuses to transformers. Having ratings and sizes from intelligent component based libraries from multiple manufacturers. This helps in providing information and specifications based on distribution system parameters and requirements. It also offers:
Short Circuit Prevention
Reuseable Centrally Stored Sub-Circuits
Automatic and Parallel Connections
Component Driven Parts Libraries
Ensures on Valid Parts are Used
Online Cross Referencing of Connections and Devices
Terminal Configuration
PLC Integration
Automatic Wire Numbering
E3.schematic manages all design data and affiliated documentation, such as bill of materials and connection list or assembly instructions and datasheets.
E3.Panel
E3.Panel allows engineers to layout components within panel enclosures. Easy component snapping placement, component clash prevention, and integrated with E3.schematic where design work can begin either in of the tools. Easily see how electrical and mechanical aspects merge into one cohesive CAD. Also provides wire routing so wires can be automatically connected from schematic and generating the shortest route possible for the configuration. It also provides:
Complete Component Definitions
Slots and Mount Functionality
Restricted Area Support
Breakout and Cutting Details
Shortest Path Algorithm for Wiring
Wire Segregation
3D Visualization
Integration with Automatic Wiring, Drilling, and Milling Machines
---
Get The Best Tools for Designing and Planning Distribution Systems
There is already so much work and effort that is required for design and implementation of distribution systems. Don't waste precious time on items that can either be automated or made simpler. Planning and design are important and making sure that is conducted properly the first time will save immense amount of time in the future.
---